JUNE CRESPO. THEY SAW THEIR HOUSE TURN INTO FIELDS
JUNE CRESPO. THEY SAW THEIR HOUSE TURN INTO FIELDS
-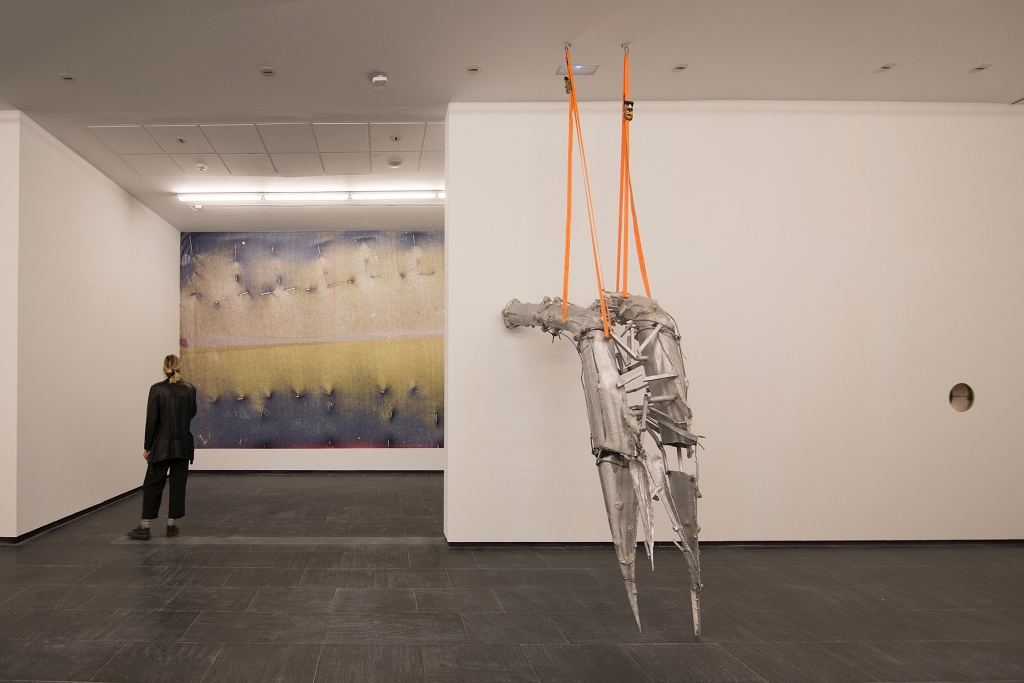 Picture: Ander Sagastiberri.
Curated by: Marc Navarro
June Crespo understands sculpture as an exercise that enables her to bring together seemingly opposed qualities. Her works partake equally of the petrean and the perishable, the mechanised and the manual, the abject and the sensuous. The convergence between materials and motifs creates a vocabulary that seems interpretable as a contradiction. On the one hand, certain motifs are taken from industrially produced objects, bearing in mind aspects like ergonomics and formal organicity. On the other, plant and organic motifs resembling those featured in the exhibition appear as the result of highly technical systems of production and representation. Both respond to the exploration of a transitional body-object that, having been fragmented and recomposed, forsakes its original form and meanings. Thus, stalks, busts and conduits are abstracted into channels and carcases that trace a network of connections ranging from the tectonic to the physiological and associated with the domestic sphere and its design as an extension of the body. In this way, notions like human scale, void and gravity are used to establish analogies with the body and to influence the intrinsically spatial, that is, physical, nature of sculpture.
For some time now, Crespo has been developing a highly personal language based on the techniques of moulding and lost-wax casting. In their most traditional function, they are mechanisms for crystallising shapes. Yet Crespo employs these techniques to mediate in the final appearance of the sculpture and destroy their image. Hence, the casting isn't the end but the beginning of an editing process aimed to dismiss the attributes, narratives and genealogies related to materials such as bronze or steel.
Moreover, the recurrent use of textile elements acts as a tool that enables the artist to generate transitions, expose or conceal. In any event, Crespo's intention when covering the works isn't only to create forms — the gesture of covering and uncovering qualifies the sculptures themselves as events. In this way, the encounter between metal and fabric betrays her will to separate the distinction between load-bearing and auxiliary elements, between structure and ornamentation.
The sculptures in They Saw their House Turn Into Fields are arranged perimetrically, forming an interdependent relationship with the walls of the exhibition space. These establish a sequential model of reading as a discontinuous frieze, in which variations on one and the same motif appear embedded or reclined against the wall. Crespo avoids introducing these sculptures in a specific order — as we cannot walk around them, they cannot be considered sculptures in the round, and yet given their excessive projection, neither can they be considered relief sculptures.
The exhibition title refers to seeing and making as inseparable activities related to transformation and relocation, capable of blurring the limits between shelter and exposure. By dressing her sculptures, June Crespo emulates architectural, industrial or anatomical devices that define areas of contact and exclusion between interior and exterior: curtains, petals, dresses, corners. Following this premise and, in spite of the fact that the sculptures describe directionally opposed energies, they reveal the same purpose, i.e., that of eroticising the wall, abandoning its oppressive nature, as a form of contention, and exploring its plasticity as a space of flight.
The exhibition is accompanied by a publication, designed by Manuel Raeder and co-published with Bom Dia Books, with texts by Aimar Arriola, Sylvia Lavin, Marc Navarro and Julia Spínola.
JUNE CRESPO
June Crespo (Pamplona 1982) lives and works in Bilbao. She graduated with a BA in Fine Art from Universidad del País Vasco (2005) and took part in the De Ateliers residency programme in Amsterdam between 2015 and 2017. Her solo shows include: Acts of Pulse (2022) at P420, Bologna; entre alguien y algo (2022) at CarrerasMugica, Bilbao; Am I an Object (2021) PA///KT (Amsterdam); Helmets (2020) at Artium, Vitoria-Gasteiz; Voy, sí (2020) at Ehrhard Florez (Madrid); No Osso (2019) at Uma Certa Falta de Coêrencia, Porto. She has recently taken part in group shows such as: The Milk of Dreams, Venice Biennale 2022; Fata Morgana, Jeu de Paume, Paris, and El sentido de la Escultura at Fundación Miró, Barcelona.
MARC NAVARRO
Marc Navarro (Deltebre, 1984) lives and works in Berlin. He has curated exhibitions at Espai 13, Fundació Joan Miró (Barcelona), Centre d'Art la Panera (Lleida), Lo Pati - Centre d'Art Terres de l'Ebre (Amposta) and MAMT (Tarragona). In 2020 he took part in the CuratorLab programme at Konstfack - University of Arts, Crafts and Design (Stockholm). He has co-edited the books Assuming Asymmetries. Conversations on Curating Public Art in the 1980s and 1990s (2022) and Curating Beyond the Mainstream. The Practices of Carlos Capelán, Elisabet Haglund, Gunilla Lundahl, and Jan-Erik Lundström (2022) both published by Sternberg Press - Konstfack Collection. He is a member of the team of tutors at Sala d'Art Jove, Barcelona, between 2021 and 2022 and has received curatorial research grants from OSIC and Senatsverwaltung für Kultur und Europa - Berlin.
Con el apoyo de