Arte actual. Lecturas para un espectador inquieto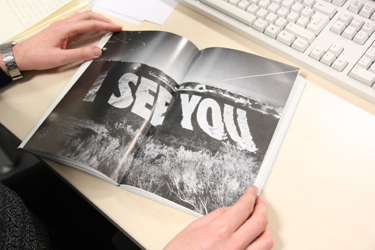 Arte actual. Lecturas para un espectador inquieto
The book Arte actual. Lecturas para un espectador inquieto [which we could translate roughly as Art Today. Readings for an Edgy Viewer] is a compilation of essays by experts in art theory and practice on recurrent issues within art over recent decades, including: the viewer´s position vis-à-vis art today and its institutions; the construction of the modern subject and its crisis; gender issues; art in a global world; and the connections between aesthetics and politics. The book's key themes are presented as introductory readings accompanied by artists´ writings, case studies, interviews and glossaries, together with selected images to strengthen, alter or contradict the written discourse.
These readings, all of them previously unpublished or published for the first time in Spanish, are aimed at inquiring viewers who visit museums and art centres, who question the nature of art and its creators; viewers that somehow understand that they also form part of the artwork, that they are able to complete it, quality it, discuss it or learn with it. These readings are dedicated to them.
This wide-ranging book started from the experience generated through CA2M's courses like Looking at War. Images, Art and Visual Studies; Looking at the Present or What are Objects Telling Us? Prose and Poetry of the Daily World; and particularly, the last four editions of the But… Is this art? course. Faithful to the spirit of community colleges, this book is a compilation of readings that serves as an introduction to contemporary art in a clear and direct form, addressing subjects, fostering encounters and developing critical attitudes.
The book is edited by Yayo Aznar and Pablo Martínez with contributions by Juan Vicente Aliaga, Yayo Aznar, Ferran Barenblit,Tania Bruguera, Fernanda Carvajal, María Cunillera, Nike Fakiner, Aurora Fernández Polanco, Dora García, Victoria Gil-Delgado, Carlos Granados, María Iñigo, Pedro Lasch, Rogelio López Cuenca, Pablo Martínez, María Ruido, Hito Steyerl, Francesc Torres and Jaime Vindel.
On sale at bookstores and at CA2M
Arte actual. Lecturas para un espectador inquieto was published thanks to the support from the Spanish Sub-directorate General for the Promotion of Fine Art belonging to the Ministry of Education, Culture and Sports.

 Press RELEASE