THE CA2M COLLECTION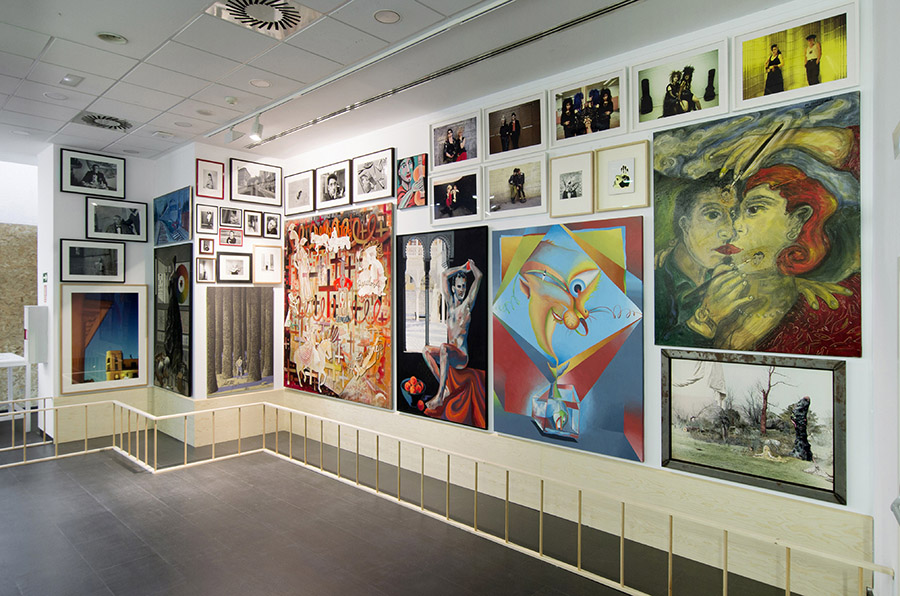 The Contemporary Art Collection of the Autonomous Community of Madrid came into being in the mid-1980s, with the acquisitions made by the Directorate General of Cultural Heritage via the Advisory Council for the Visual Arts. In its early years, acquisitions were based on works produced for exhibitions organised by the Autonomous Community's administration itself, which makes this Collection a veritable history of the Autonomous Community of Madrid's exhibition policies. More recently, a commission for valuing acquisitions was created under the General Directorate of Archives and Libraries, thus professionalising a historiographic vision and common task.
Victoria Combalía, Rafael Doctor, José Guirao, Lorena Martínez de Corral, Berta Sichel, Carlos Urroz, Javier Martín Jiménez and Tania Pardo were consulted by successive acquisitions committees. Since 2015, the acquisitions assessment committee has also included Rosina Gómez-Baeza, Glòria Picazo, Estrella de Diego and María Corral. As Ferran Barenblit, the first director of the CA2M, explains: 'Purchases always followed the idea of what was new, although obviously sometimes we cast our eyes back and acquired artwork from past periods. At the start of the 1980s, tensions between the two most visible trends of the time came together: a new way of imagining, which ascribed to the lines that were internationally predominant, and a continuation of the abstract experiences of the previous decade. Making this decision meant that other types of practices were left aside – these, in turn, drew from the conceptual practices of twenty years earlier – that at the time were obviously less discernible, despite the importance that they would regain at the end of that decade. That was when the collection also began to be fuelled by the exhibitions organised by the Autonomous Community itself in its different exhibition spaces. The first installations and sculptures began to arrive. Shortly afterwards, after 1990, acquisitions took on an eminently photographic turn. The Autonomous Community itself organised many activities related to photography: a programme for the Canal de Isabel II Exhibition Space (created in the unique setting of an old water tower); Image Symposiums (a pioneering event that reflects on the meaning of images in contemporary society); and the Autonomous Community's own Awards. It seems a logical sequence of events. At a time when Spanish collections were beginning to acquire their own identity, it was necessary to adopt a meaningful approach when it came to acquisitions. Choosing photography as a medium brought numerous advantages: it was a medium in which experimentation was greater than in others; was constantly subject to technical transformation (the digital revolution had not yet arrived); and which had, by its very definition, a close relationship with reality and the questioning of it. A medium, which, moreover, implicitly carried a certain message of an in-depth relationship with contemporaneity. The result was a collection that grew quickly in size. The inherent conditions of photography allowed a large number of works to be incorporated in a very short space of time.'
In fact, if there is one aspect that is central to the CA2M's Collection: its focus on local photographic culture, which constitutes an important part of our collection, though what constitutes it is the history of the exhibitions in the exhibition spaces of the regional government. During the first years of the CA2M's history, there has been a continuity with these principles: acquisitions of productions specifically made for its programme have been a constant since its creation and, from the very outset, the museum's exhibition programme has continuously focused on Latin American art. This focus on a particular geographical area may seem merely indicative, but it becomes an obvious sign when it is seen to be a common choice for many institutions and art galleries in Madrid.
In recent years, the acquisition strategy has endeavoured to fill important historical gaps in the history of contemporary art in Madrid, and in the exhibition policies of the Autonomous Community of Madrid itself and that of the CA2M. The commission has been working on incorporating important pieces from the past that are still available — from Concha Jerez and Pepe Espaliú — and from young people who are fixtures today —Cristina Garrido, Rubén H. Bermúdez and Teresa Solar. It is important to note that between 2016 and 2020, the budget allocated by the Autonomous Community of Madrid for acquisitions has grown by 178%.
In a contemporary art museum in Madrid, the definition of local art must include Latin American art, due to logical demographics and to a relational structure inherited from the colonial past. Latin American artists are very much present in our exhibitions and public programmes,  and play an important role in the ARCO Foundation Collection. In recent years, the vindication of decolonial thinking and a focus on native peoples have introduced new indigenous cosmogonies into our exhibition rooms; these broaden Western ways of thinking and introduce another form of inclusivity that must continue to be explored in the future.
Another aspect explored since the foundation of the museum has been that of artist books: the CA2M has published many and has continuously acquired others over the years. The library has also made space for a fanzine library, a collection of non-official publications that continues to grow every year, giving rise to a unique archive of divergent editorial practices in Spain.
It is also important to note that in museums there has always been a structural excuse for male dominance in collections. In the case of the CA2M, our collections took shape in the early 1980s, when feminist sensibility was still a minority interest, despite its many political and civil rights achievements. Today, we believe that there is no plausible excuse for future public collections of contemporary art to exclude fundamental female artists and blame a lack of attention to gender parity. There is no longer any excuse for the History of Art to exclude names. Although it is more inclusive and fairer, and despite recent efforts, the CA2M Collection is not yet egalitarian, and an egalitarian collection has yet to become a reality.
Finally, body performativity is a very visible part of the CA2M's programme, and its collection of performance art, experimental choreography, provocative theatre and living arts is steadily increasing. The museum has open questions for the future: Isn't the presence of bodies in an institutional space already an immaterial part of its Collection? Isn't the archive of experiences of our Picnic Sessions, of Autoplacer, of our educational processes, a first-class heritage resource comprised of intimate memories but also by the public documentation of their temporality? Every collection is Potential History and both this and other challenges will affect the future of this Collection.