ESTHER GATÓN. EMIL LIME
-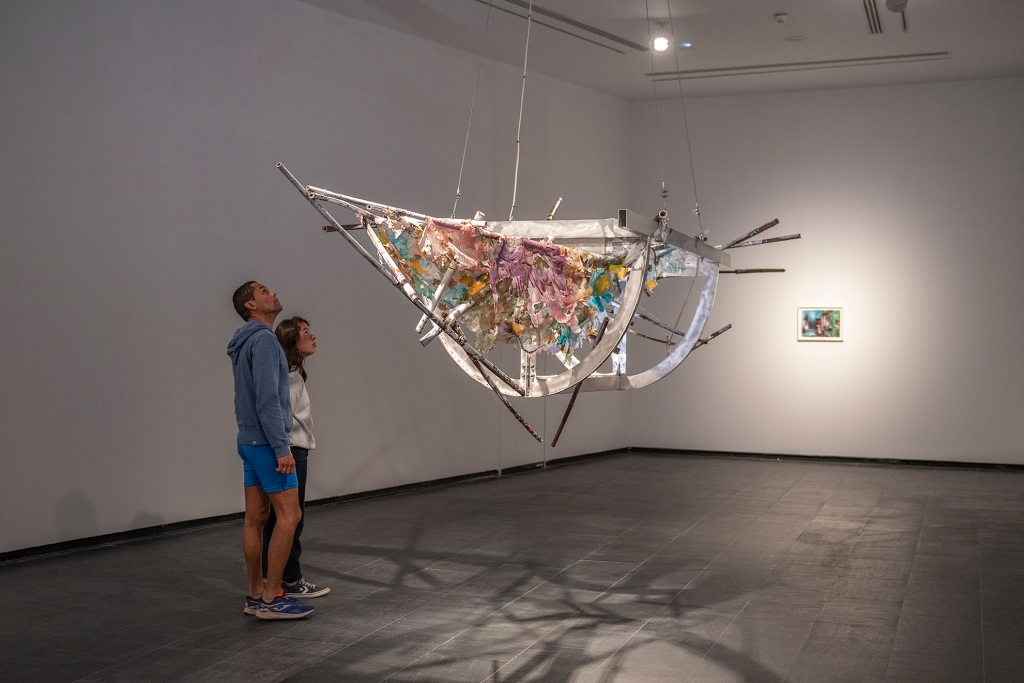 Esther Gatón. "Emil Lime", 2022.
Curated by Cory John Scozzari.
Emil Lime is an exhibition by Esther Gatón curated by Cory John Scozzari. The project articulates forms, techniques and interests recurrent in Gatón's practice, such as the construction of ambiguous settings, amateur science, visual artifices and the intersections between femininity and machinery, orchestrated together into one single installation.
One of the original stimuli for the exhibition was the local funfair and, more particularly, the pirate boat ride which swings passengers back and forth around a central pendulum. The swinging motion is mirrored in the palindrome of the title of the exhibition, Emil Lime, which reads the same in either direction. Gatón's interest in popular spectacles is related with an attraction towards instability, fear, adrenaline and the forms in which these emotions are expressed, both in the body of the visitor as well as in society as a whole.
For Gatón, this excessive and reckless spirit acts in parallel to the economic history of Spain in the early-2000s, associated with the neoliberalization of the economy, the construction boom and the political value attributed to consuming and excess. A trajectory that was interrupted by the downturn of 2008, a crucial year in which Museo CA2M itself was opened.
ESTHER GATÓN
Esther Gatón (Valladolid, 1988) studied Fine Art in Saint-Luc Liège Belgium, the University of Barcelona and Goldsmiths London and holds a PhD from Universidad Complutense de Madrid. Esther has exhibited work in institutions like CAPC (Bordeaux), Matadero (Madrid), La Casa Encendida (Madrid), Museo Patio Herreriano (Valladolid), Museo Universitario de Navarra, Museo CA2M (Madrid), Fabra I Coats (Barcelona), Etopía (Zaragoza), Palacio Condes de Gabia (Granada), Laboral Centro de Arte (Gijón), and Sala de Arte Joven (Madrid), and in independent spaces and galleries such as The Ryder (London), Intersticio (London), korai (Cyprus), Nordés (Santiago), Luis Adelantado (Valencia), The Watch (Berlin), Elba Benítez & Schneider Colao (Madrid), and Verão (Lisbon), among others. She has worked as an honorary collaborator at Universidad Complutense de Madrid and has taught at Master Landa. She has lectured in Gelatina, Feria Arco, Escuela TAI, InJuve, and CAAC Seville.
Her texts have been published by La Raya Verde, Nudo ed., Universidad de Alicante, Palfrey Gallery London, El Estado Mental, Materiales Concretos, Nero, A*Desk and Urbanomic. Her awards include Circuitos de las Artes Plásticas, Injuve, Ayudas Comunidad de Madrid, London Art Council, a-n Bursaries, Veepee Visions of The Future and Generaciones.
In 2022, Gatón did the WIELS residency in Brussels. Her work is represented by Cibrián in Donostia-San Sebastián and by Irène Laub in Brussels.
CORY JOHN SCOZZARI
Cory John Scozzari (1988, Florida) is a curator, artist and writer. He is the founding director of Cordova, a curatorial project begun in 2016 in Vienna, currently located in Barcelona. Between 2015 and 2019 he worked as assistant curator at Thyssen-Bornemisza Art Contemporary. He received an MFA in Curating from Goldsmiths in 2015, and a BFA in Photography and History of Art from SCAD in 2010.
He is a regular contributor to publications such as Rhizome, Mousse, Spike and Texte Zur Kunst. He is the editor or co-editor of three books: Tyler Coburn: Richard Roe, Allan Sekula: OKEANOS and Mario García Torres: An Arrival Tale, all published by TBA21 and Sternberg Press. His recent curatorial residencies include HIAP in Helsinki in 2018 and SOMA in Mexico City in 2019. Some of his recent projects include Covco: FLY HIGH, at Cordova and Treunos y Luz, a public programme on god and beliefs at La Casa Encendida.
Con el apoyo de