JUAN MUÑOZ. AT THE VIOLET HOUR
JUAN MUÑOZ. AT THE VIOLET HOUR
-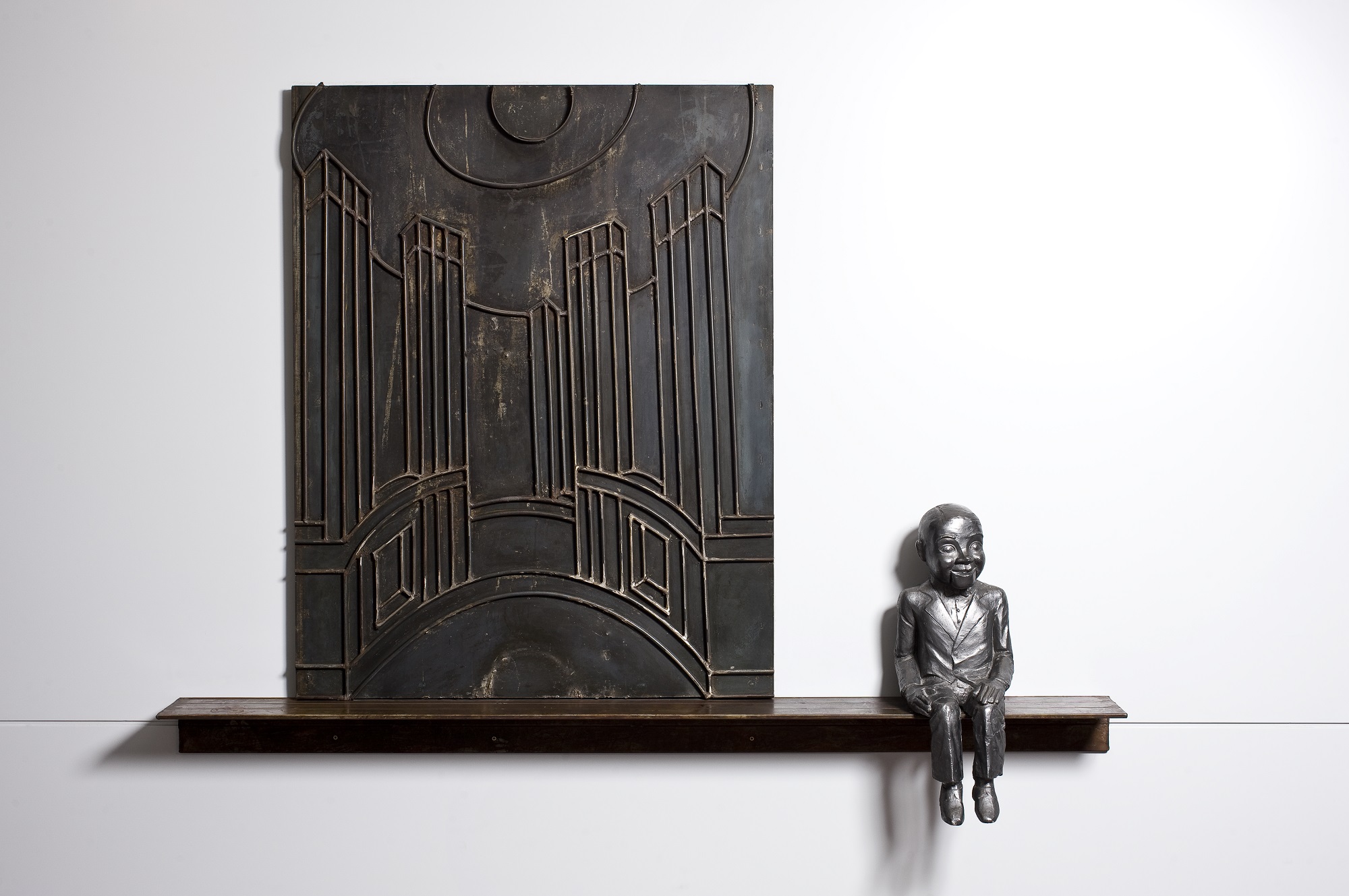 Juan Muñoz, "Del Borrar", 1986.
Curated by Manuel Segade.
This exhibition commemorates the 70th year since the birth of the artist Juan Muñoz (Madrid, 1953 – Ibiza, 2001). In recent decades, no other Spanish artist had achieved such international fame, with a dazzling career from his first exhibition in 1984 until his untimely death at the age of 48. The show—which will be a prolongation of the exhibition on view at Alcalá 31 between February and June 2023—will focus on the first ten years of his practice.
His early output was marked by manifold open lines of research. On one hand, he was interested in the paradox between the immateriality of symbolic language and the material violence of sculpture, in a derivation of the arte povera and conceptual movements of the preceding decades. On the other, the introduction of theatricality—of the physical and emotional reaction of visitors to an exhibition—as a basic element when it comes to conceiving the installation space and the protocols for interpreting an artwork.
Juan Muñoz started to produce work late, after having worked as an exhibition curator and writing critical reviews with notable success. This gave his first works a surprising maturity and, after just eight years, his work evolved so fast that it had already acquired its own personal, highly sophisticated and readily identifiable language.
Since the mid-80s, Juan Muñoz had embarked on a recovery of figuration in sculpture but it was his engagement with its installational qualities and architectural vocation that gradually gave his work an increasingly more monumental scale. At the same time, his works also became psychologically more complex. While the question of theatricality conveyed to the spectator an impression that they had entered the exhibition at the wrong time, as if they had arrived too early or too late to a work being performed, the multiplication of the number of figures and spatial resources gave way to an existential relationship that tends to suspend the disbelief of the audience, to erase the distance between exhibition and reality. Juan Muñoz reminds us that being in an exhibition is also being exposed. But making visitors feel like characters in a play being acted out is also putting them in a risky position: it presupposes a recognition of a fragile position, of emotional submission, by giving over control to the storytelling artist.
The exhibition hall is caught between reality and fiction or, in other words, it keeps reminding us—like a reflection in a mirror—that reality is no more than a particular mode of representation. Straddling two centuries, Juan Muñoz's work was an outpost for the speculative shift that now characterizes art in the immediate present.
MANUEL SEGADE
Manuel Segade (A Coruña, 1977) graduated with a BA in History of Art from the University of Santiago de Compostela. His dissertation was a review on theatricality and allegorical linguistic structures in sculpture from the 1980s through the work of Juan Muñoz. Since 1998, he has been working on fragments of a cultural history of aesthetic practices from the late-nineteenth century, around the production of a somatic and sexualized subjectivity, which was the subject of his published essay, Narciso Fin de Siglo (Melusina, 2008).
In 2005 and 2006, he was content coordinator for Metrònom Fundació Rafael Tous d'Art Contemporani in Barcelona. From 2007 to 2009, he was a curator of the Centro Galego de Arte Contemporánea in Santiago de Compostela. In 2009, he returned to his activity as a freelance curator on projects for Fundació Joan Miró, La Casa Encendida, ARCO, MUSAC, Centre d'Art La Panera, Pavillon Vendôme (France), Kadist Foundation (France), Bienal de Cuenca (Ecuador), ArteBA (Buenos Aires) TENT, (Rotterdam) and Centro de Arte Dos de Mayo (Madrid). He has lectured in curatorial practices in various postgraduate and MA programs, such as the Honours in Curatorship at Michaelis University in Cape Town and the Independent Studies Program at MACBA in Barcelona, and he is currently a tutor at École du Magasin in Grenoble (France). He curated the Spanish Pavilion at the Venice Biennale in 2017, with a project by the artist Jordi Colomer.
In his latest projects he explores different gestural approaches to curatorship and other forms of discursive distribution, in pedagogy and education formats and in curatorial actions close to performance.
He lives in Madrid where he is director of the Region of Madrid's Museo Centro de Arte Dos de Mayo in Móstoles.
Con el apoyo de