Mitsuo Miura. Almost 400 m2 for two landscapes.
Mitsuo Miura. Almost 400 m2 for two landscapes.
-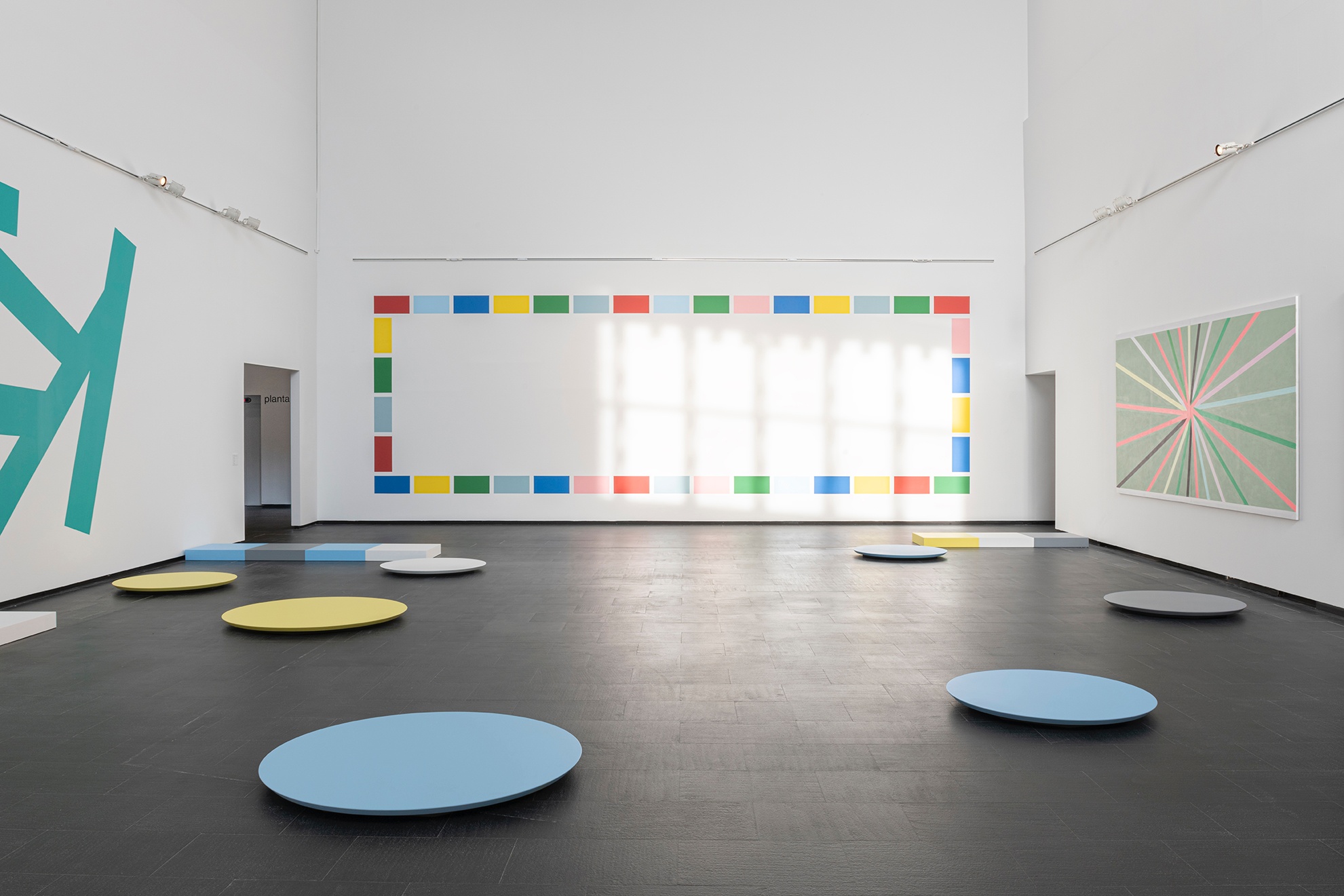 Mitsuo Miura, Untitle, 2010. Courtesy of the artist. VEGAP, 2022.
Curated by: Tania Pardo
Mituso Miura (Iwate, Japan, 1928) moved from Japan to Barcelona in 1966. With a suitcase in each hand and barely speaking Spanish, he sat down on a bench in Plaza de Cataluña to carefully observe the rhythm of that city by the sea. Since then, the Japanese artist has not ceased to contemplate each of the landscapes that have accompanied his life experience.
A journey through Mitsuo Miura's work—a career spanning over fifty years—is a slow stroll through an artistic life linked to specific geographical locations: Japan, Cuenca—where he is introduced to the artistic circles that emerged around the Museum of Abstract Art and where he shares his interest in conceptual art with Nacho Criado—Bustarviejo—where he consolidates a body of work centered in the incorporation of nature and the use of poor materials—Genoveses Beach, in Almeria—where, stripped of all figuration, he focuses purely on abstraction and the reduction of shapes and colors—and, finally, Madrid, where Miura focuses his gaze on the stimuli of the city.
Resolved with extreme formal simplicity, Miura's work evidences his absolute rejection of artifice and his mastery in the indistinct use of different techniques and materials, ranging from photography, sculpture, painting, and drawing to engraving and installation.
Conceived specifically for the Museo Centro de Arte Dos de Mayo, the project Almost 400 m for Two Landscapes recalls in its title the piece 4 Meters of Well-being (1989)—which alludes to the canvas the artist used every summer to rest with his family at Genoveses Beach—and refers to the total sum of the exhibition room's surface.
This exhibition is structured around two large installations that refer to the opposition between concepts: interior-exterior, inside-outside, and public-private. The more intimate is represented in the installation Imagined Memories—an allusion to the most introspective part of personal experience—in which the artist uses his signature colored ribbons to construct simple columns distributed throughout the space. Alongside this piece, he exhibits My Archives, a selection of images that serve to organize cataloged works from the 1960s to the early 1990s. The outside is perceived in Show Window, an installation composed of canvases, floor pieces, neon lights, and a mural installation in which the artist deconstructs the urban gaze in a reference to the attraction provoked by the shop windows, lights, and advertisements that permeate the horizon of any city.
In addition, the exhibition presents cardboard models of interventions carried out over the years, designed and handmade by the artist himself. These prototypes are elaborated with exquisite attention to detail and are in themselves authentic three-dimensional records that reveal the artist's acute spatial and architectural skills.
With his astonishing capacity for synthesis, Mitsuo Miura takes to its ultimate consequences the plastic translation of the different states of the landscape, both natural and urban. However, more than the landscape itself, the key is to reflect the experience of the landscape, which results from the essence of shapes and different chromatic ranges. His proposals introduce the idea of pleasurable contemplation and the invitation to move through simple geometries and vivid colors.
Mitsuo Miura is one of the most original figures on the Spanish art scene; not only for his artistic facet but also because of his teaching experience and for opening, together with Arturo Rodriguez, the mythical space Galería & Ediciones Ginkgo (1989−1998)—centered on graphic work and multiples—which have enabled him to be in continuous contact with environments and creators from different generations, becoming an undeniable reference for many of them or, as he has been called on more than one occasion, "a master of the experience of life."
MITSUO MIURA 
(Iwate, Japan, 1946) 
Lives and works in Madrid
Miura lives in Spain since 1966. A multidisciplinary artist, he works across drawing, printing, painting, photography, installation and other mediums. Since the beginning of his career, he has shown his work in countless solo and group exhibitions. He has also directed contemporary art workshops at Arteleku, Círculo de Bellas Artes, Fundación Marcelino Botín, MACUF, among others.
Prints and multiples are to the fore in his overall output. In both these fields, Miura has played a critical role in Spain as an artist and also as a promotor, together with Arturo Rodríguez, through the Galería & Ediciones Ginkgo gallery and publishers which operated from 1989 to 1998.
Equally noteworthy is his role as a teacher, especially as associate professor at the School of Fine Arts at Universidad Complutense de Madrid (1993-2002) and at Universidad Europea de Madrid (2002-2012).
Following a few group shows, Miura had his first one-person show in 1969 at Galería Egam. Since then, he has never stopped showing his work in solo and group exhibitions, mainly in Spain, with a particular mention for his one-person shows at Museo Español de Arte Contemporáneo, Madrid (1981); Marimura Art Museum, Tokyo (1988); Koldo Mitxelena Kulturenea, San Sebastián (1994); Tozai Bunka Center, Tokyo (1999); Círculo de Bellas Artes, Madrid (2000); MACUF, A Coruña (2001), Artium, Vitoria, and Museo Barjola, Gijón (2002), Palacio de Cristal, MNCARS, Madrid (2013) and Museo Casa de la Moneda, Madrid (2017). Miura was awarded the II Engraving Prize at the Alexandria Biennial (1978), the Painting Prize at Certamen Ciudad de Granada (1983), the Tomás Francisco Prieto Prize for Medals at Fábrica Nacional de Moneda y Timbre (2017) and the Barón de Forna Prize at Real Academia de Bellas Artes de San Fernando (2019).
TANIA PARDO
(Madrid, 1976)
With a BA in History of Art from Universidad Autónoma de Madrid, Pardo is a curator and researcher, and currently deputy-director of Museo CA2M, Centro de Arte Dos de Mayo and a visual arts advisor to the government of the Region of Madrid.
She is a former head of the Exhibitions department at Casa Encendida (2015-2019) and associate professor at the History of Art department at Universidad Complutense de Madrid (2014-2019) and is currently a faculty member in the Master in Curatorial Studies at Universidad de Navarra.
Pardo has curated exhibitions at MUSAC (Museo de Arte Contemporáneo de Castilla y León) where she also devised the programming for its Laboratorio 987 space (2005-2010). A former director of projects at Fundación Santander 2016 (2009-2010), she has also developed various curatorial projects with different institutions including, among others, Sin heroísmos, por favor (Iván Argote-Teresa Solar Abboud-Sara Ramo) at CA2M (March 2012), the En Casa programme at La Casa Encendida (2012). At ARCO 2013 she curated the ARCOmadrid Collect On Line programme in conjunction with Paddle8. After two years of curatorial work she presented Retando a la Suerte, a show by the NOPHOTO collective at Tabacalera, Madrid (Ministry of Culture, July 2014), a show by the artist Sergio Belinchón at Galerie Invaliden in Berlin (September 2014) and she has recently curated 1465 Tizas by Maider López at Nave 16 in MATADERO Madrid.
Pardo has co-directed the Spanish Contemporary Art Studies symposium (Fundación Helga de Alvear / La Casa Encendida and Museo Unión FENOSA) and also the "Curating the Present" course organized by La Casa Encendida since 2012. She also works with projects to connect contemporary art and education in collaboration with the School of Fine Arts at UCM, organizing "Salón de Verano" (July 2014). She is head of the CAFÉ DOSSIER portfolio viewing project organized by the Ministry of Culture (2013 & 2014); together with Sergio Rubira she curated Pasado, Presente, Futuro for the XV UCM Visual Arts Prize (February 2015) and for the XVI UCM Visual Arts Prize (February 2016) and the Madrid 45 / Línea 3 visual culture programme organized by the Region of Madrid (2015-2016).
As an art critic she is a regular contributor to the El País newspaper's weekly cultural supplement Babelia, publishes essays in art journals and exhibition catalogues, lectures in contemporary art courses and symposiums, and sits on various juries for prizes and competitions related with contemporary art. Jointly with Manuel Segade she has recently curated Dialecto CA2M a show on the holdings of the CA2M and Fundación ARCO collections.