MYRIAD REFLECTOR
-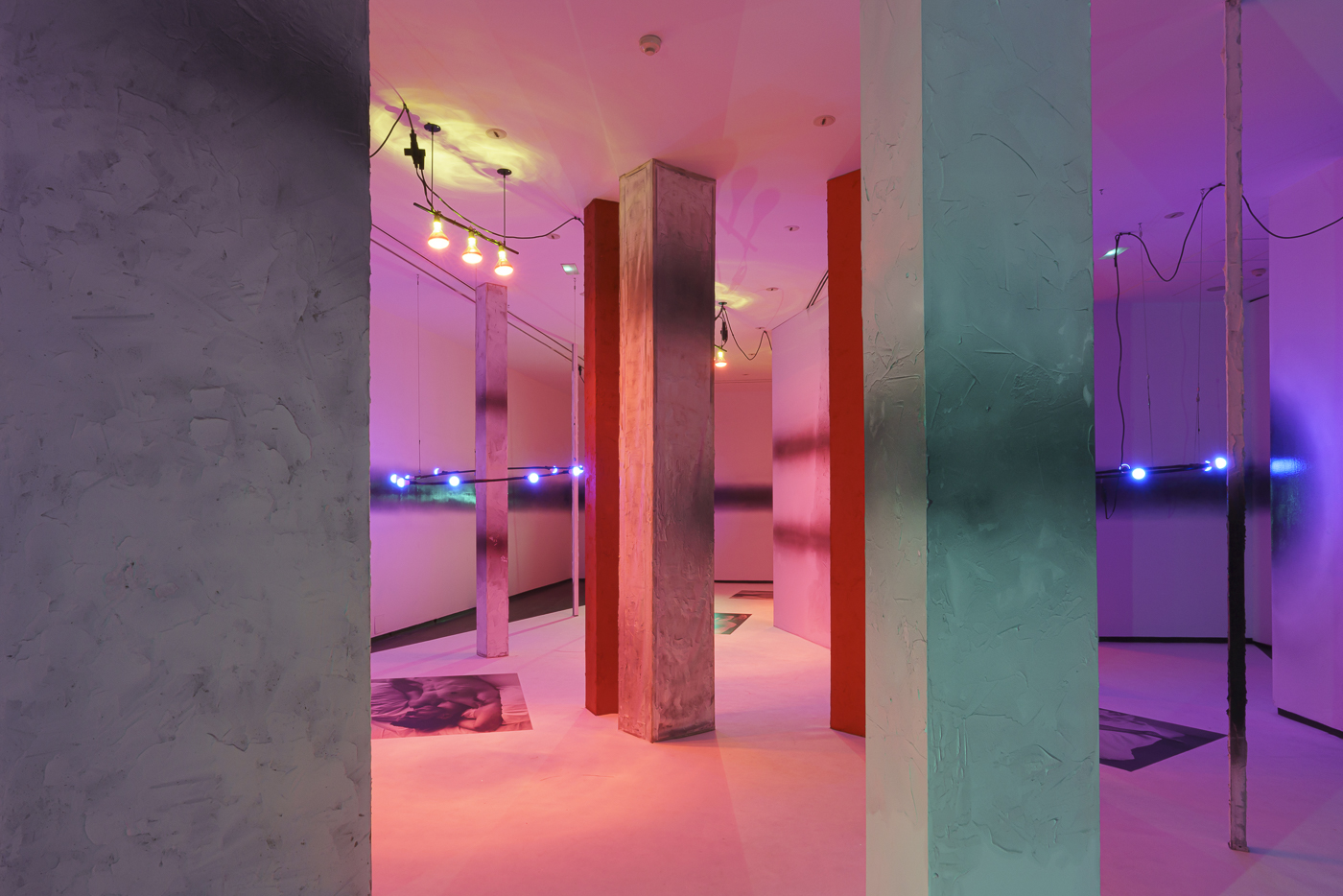 "Infinite interiority" (with Alex Baczynski-Jenkins, Matt Copson, Pol Esteve Castelló, and Anthea Hamilton), collage assembled by Pol Esteve Castelló, 2022.
CURATORS: JULIE BOUKOBZA & JULIA MORANDEIRA ARRIZABALAGA
ARTISTS: Alex Baczynski-Jenkins, Pol Esteve Castelló, Matt Copson, Anthea Hamilton.
The night is an elusive terrain that defies an easy definition. Coming from old age and going past the apocalypse. Rising from our most intimate thoughts and leaving behind our very daily public selves. The night not only revolves around clubbing, youth, desire, safe or unsafe spaces; it is intimately inhabited by animals, night flowers, mothers, workers, sleepwalkers, lonely dancers, and perfect strangers who prefer to live without witnesses. Not properly a space, nor entirely a time, nor fully a state: the night plunges us in the realm of the fugitive and the experiential, and vanishes once we attempt to enclose it in a fixed signifier.
The question then might not be what the night is but, rather, what the night does: what countless sensorial possibilities does it enable, what thick atmospheres and currents does it trigger, what social choreographies and what specters thrive in it, what textures does it wear and what rhythms does it cultivate, what traces and residues does it leave behind. And, moreover, we are interested in what is that produces night: what are the gestures, actions, materials that invoke and provoke nocturnality, even in plain day. What are, in sum, the myriad potentials that the night holds.
Myriad Reflector is an exhibition exercise into the nocturnality. Conceived as a multilayered score unfolding through time, the contributions of artists —composed by light, sonic, rhythmic, smell, haptic, and choreographic elements— intermingle in a kaleidoscopic display defined by disorientation, refractive perspectives, and sensual textures. This, in turn, will be devised to host a panoply of study sessions, discussions, presentations, and performances around the nocturnal. The exhibition will then be weaved through distinct rhythms and intensities: being activated through a program of night flashes, and operating as a twilight atmosphere the rest of the time. 
The title Myriad Reflector refers to the first name given to the disco ball invented by the American entrepreneur Louis Bernard Woeste back in 1917. This proposition functions exactly like the object it cites: as the reflection of a myriad lustrous elements that do not aim to convey the night or a specific night but, again, seeks to resist any given representation or signification to dive instead in the wild profusion lurking in this darkness. 
JULIE BOUKOBZA
Julie Boukobza is a curator based in Paris, Head of the Luma Arles Residency Program.
In 2021, she curated the group exhibitions «Kolé Seré» at Braunsfelder Family Collection in Cologne (Germany) and « Wear the Right Thing » at the Virginia Commonwealth University gallery in Doha (Qatar). In 2020, she curated the solo exhibition « The End » of the artist Michael Dean at Converso in Milan (Italy). Between 2018 and 2019, she co-founded an artist-run space in Paris (France) with the curator Stéphanie Moisdon and the artist Matthew Lutz-Kinoy. In 2017, she co-curated with Simon Castets a group show at the Museum of Contemporary Art in Belgrade (Serbia) called « FADE IN 2 EXT. MODERNIST HOME ». In 2016, she curated the group exhibition « Pure Fiction » at Marian Goodman gallery and a solo show of Peter Shire at New Galerie, both in Paris (France). 
JULIA MORANDEIRA ARRIZABALAGA
Julia Morandeira Arrizabalaga is a researcher and curator in the fields of culture, art, and education. Since 2021, she is Curator of Post-Academic Program at BAK, basis voor actuele kunst; and since 2019, a professor at the Dutch Art Institute master program, ArTEZ University. Besides this, she is a mediator for the Concomitentes project in Spain, and ARCO Madrid's Opening section curator for the 2021-22-23 editions. Previously she was director of escuelita at CA2M-Centro de Arte Dos de Mayo (2016-2019), curator of the Thought Programme at the Canal Theatre (2018-2020), and consultant to the visual arts programme PICE at A/CE-Spanish Cultural Action.
Her practice is articulated in long-standing projects of curatorial research, which materialise in different formats, structures and gestures, such as Canibalia; Be careful with each other, so we can be dangerous together; Nothing is true, everything is alive; Social Choreographies or Night Studies, to name a few. Her work has been showcased internationally under multiple formats at Kadist Foundation and Jeu de Paume (Paris); Hangar (Lisboa); Peryton (Copenhagen); CA2M, CentroCentro and Matadero (Madrid); Azkuna Zentroa (Bilbao); Tabakalera (Donostia-San Sebastián); MACBA (Barcelona); Savvy (Berlin); Kyiv Biennial; Kunstcenter Bergen; Gasworks and Serpentine Gallery (London); TEOR/Ética (San José, Costa Rica); ArtCenter/SouthFlorida (Miami); BetaLocal (Puerto Rico), or CCE La Paz (Bolivia), amongst others. In 2012 she was the curator of the Barcelona Pavilion at the 9th Shanghai Biennale. She has furthermore lectured at numerous places such as Royal Institute of Art (Stockholm), De Appel Curatorial Program (Amsterdam), Pompeu Fabra University (Barcelona), University of the Basque Country-EHU (Bilbao), Goldsmiths College (London), Notre Dame University (Indiana, USA), or SomethingYouShouldKnow seminar (Paris).
Morandeira publishes extensively on the intersections of critical theory, cultural studies, artistic and educational practices, and has also acted as a consultant to diverse pedagogical and cultural structures and programs. She holds a degree in Humanities from the Universitat Pompeu Fabra in Barcelona and an MA in Visual Cultures from Goldsmiths College in London.
POL ESTEVE CASTELLÓ
Interioridad infinita / una estética nocturna dilatada (Infinite Interiority / A Dilated Nocturnal Aesthetic)
Installation consisting of modular construction elements covered in paraffin coating, lipstick, nail polish and eye shadow, bathed by a system of light waves.
Pol Esteve Castelló is an architect, researcher and lecturer whose work explores the connection between space, body and technology. Sustained on historical research and the practice of architecture, he questions different ways of culturally producing space. He focuses particularly on anonymous and collective architecture, paying special attention to the relationship that connects material practices, spatial experiences and social systems. He is currently investigating the transformation of production and desire regimes in Europe during the second half of the twentieth century, through the genealogy of the disco/nightclub as an architectural genre. In parallel, he also develops spatial projects that translate aspects of his theoretical research to physical, experiential spaces.
He has presented his work in various formats in architecture and visual arts projects at venues and events such as, among others, La Térmica (2022), Theatrum Mundi (2021), La Casa Encendida (2021), London Design Museum (2021), Architectural Review (2020), Matadero Madrid (2020), Arch+ (2020), Yale Paprika (2019), Cruising Pavilion at ArkDes Stockholm (2019), Kunstpalais Erlangen (2019), Forum Architecture Lausanne (2019), Migrant Journal (2019), Vitra Design Museum (2018), Centro Centro (2018), Fundació Joan Miró (2018), CCCB (2017), Harvard University (2017) and Villa Noailles (2017). He is co-founder of GOIG architecture studio, currently lectures at the Architectural Association, School of Architecture in London and develops his research at The Bartlett Faculty of the Built Environment, University College London.
ANTHEA HAMILTON
Anthea Hamilton is a visual artist working across installation, sculpture, film and performance. She completed her studies at  Leeds Metropolitan University and the Royal College of Art London in 2000 and 2005 respectively. In 2016, Hamilton was one of four shortlisted artists for the Turner Prize presented at Tate Britain. Anthea Hamilton lives and works in London. 
Anthea Hamilton has exhibited her work internationally. Selected solo exhibitions include: Mash Up, M HKA, Antwerp (2022); The Pillow Book, New York (2022); The Prude, Thomas Dane Gallery, London (2019); The New Life, Secession, Vienna (2018); A is for... and, am, anxious, adore, Kaufmann Repetto, Milan (2018); The Squash, Tate Britain, London (2018); Love IV (with Nicholas Byrne), Schinkel Pavillon, Berlin (2016); Anthea Hamilton Reimagines Kettle's Yard, Hepworth Wakefield, Wakefield, (2016); Lichen! Libido! Chastity!, SculptureCenter, New York (2015); Kabuki, The Tanks, Tate Modern, London (2012); Sorry I'm Late, Firstsite, Colchester (2012); Les Modules, Fondation Pierre Bergé - Yves Saint Laurent, Palais de Tokyo, Paris (2012); and Gymnasium, Chisenhale Gallery, London (2008). In recent years, she has taken part in multiple group exhibitions including:  Kolé Séré, Braunsfelder, Cologne (2021); The Paradox of Stillness: Art, Object, and Performance, Walker Art Center, Minneapolis (2020); May You Live in Interesting Times, Biennale di Venezia 58, Venice (2019); La Vie Moderne, 13eme Biennale de Lyon, Lyon (2015) and Burning Down The House: 10th Gwangju Biennale, Gwangju (2014).
MATT COPSON
Matt Copson was born in 1992 in Oxford, England. His work uses theatrical devices and artistic tropes to create existential dramas of contemporaneity, abstraction, eternal recurrence and the uncanny.
His shown exhibitions and projects at CLEARING (Brussels) Swiss Institute (New York), Louis Vuitton Foundation (Paris), Mönchehaus Museum (Goslar) and Serpentine Sackler Gallery (London). In 2022, he will premiere 'Last Days', his first opera as a librettist and director, at the Royal Opera House, London.
ALEX BACZYNKI-JENKINS
Alex Baczynski-Jenkins, Untitled (Holding Horizon)
Sound score: Alex Baczynski-Jenkins
Sound mix recorded by Krzysztof Baginski
Sound Research and contributions: Jana Androsova, Krzysztof Baginski, Tobias Koch, Filip Lech
The sound mix is adapted from the choreography Untitled (Holding Horizon) Originally commissioned for the 2018 Frieze Artist Award, in partnership with Delfina Foundation, and presented as part of Frieze Projects, curated by Diana Campbell Betancourt
Developed as part of Kem's residency at Ujazdowski Castle Center for Contemporary Art, Warsaw
Tracks appearing in the mix:
Igor Wakhévitch - Initiation (2ème partie)
Delia Derbyshire, Elsa Stansfield - Circle of Light, Pt. 2 
Palmer Rockey - Feelings of Love
Chino Amobi - Paris 7
Aaliyah feat. DMX - Come Back in One Piece (Lōtic Remix)
Zaliva-D - Down Samsara
AYYA - `·. Behind The Wall I See New Life And Tears `·. ©®™
Irena Santor - Tych lat nie odda nikt
d'Eon - Serf
t0ni - Star Shopping