PEDRO NEVES MARQUES
-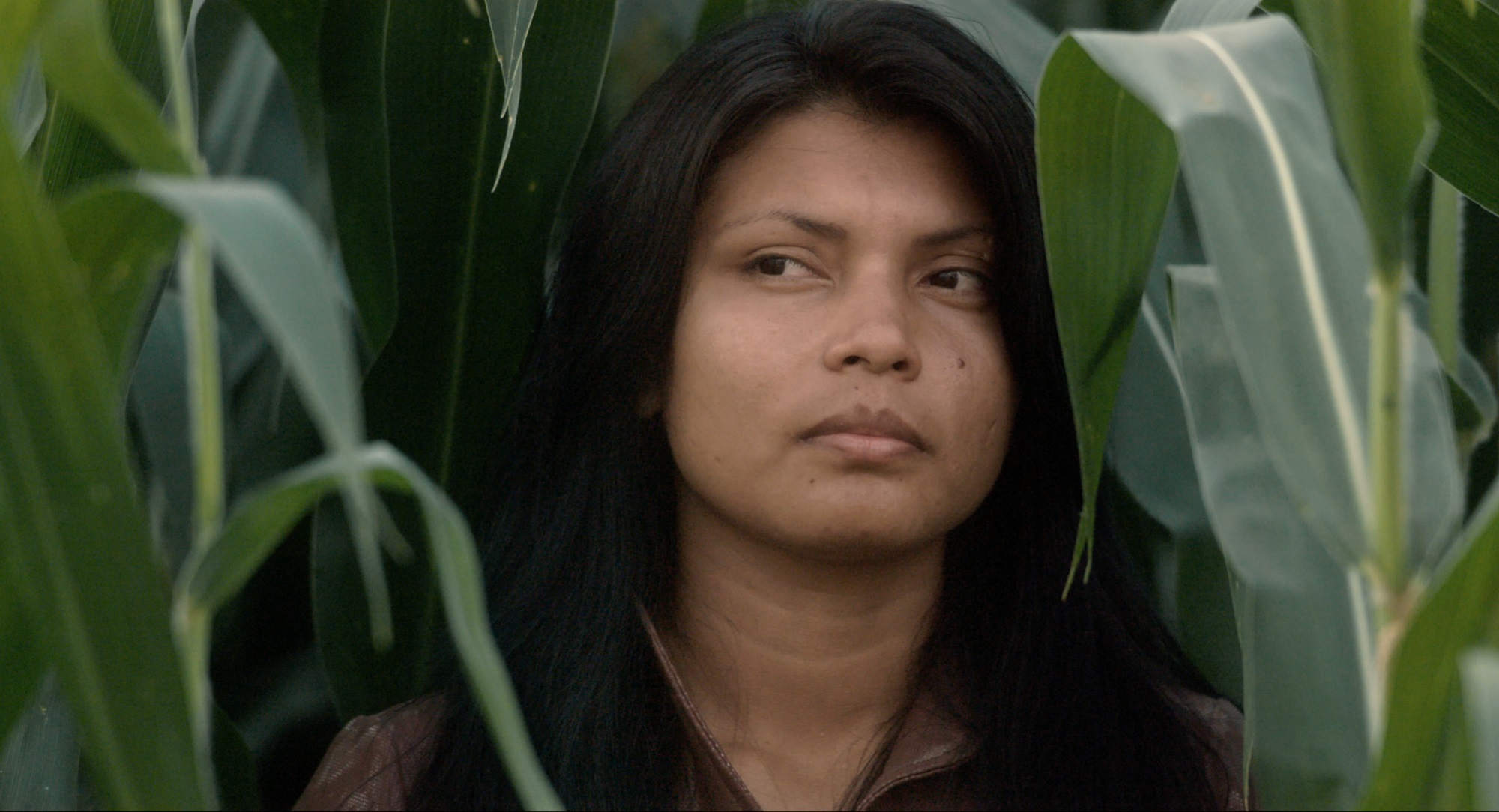 Curator: Rosa Lleó.
Pedro Neves Marques created a character, an android played by the Indigenous actress and activist Zahy Guajajara, who named her ywy, a term that means 'land' or 'territory' in her indigenous Tupi-Guarani language. Inhabiting a futuristic, yet eerily familiar Brazil taken over by monocultures, mining, and other extraction industries, YWY became a way to complicate expected roles and imaginaries about indigeneity, gender, technology, environmentalism, and science fiction.
After wrapping up Neves Marques' two earlier films, the artist asked themselves: Who actually is this woman? Where does she come from? How does she speak both to a Western imaginary of robots and the localized livelihood of Native people? YWY, Visions makes public a new phase of dialogue between Neves Marques and Guajajara, resulting in a series of new artworks, collaborations, and a publication on the same project by Sternberg Press. Central to the project is the android YWY, as protagonist in the narrative, as plot device, and wholly as an artwork.
The character's co-invention by Neves Marques, a White European author, and Zahy Guajajara, a Native artist from the north of Brazil, sets in motion a dynamic that cannot be resolved solely by one person, but only by giving it away and sharing it with a plurality of voices. First and foremost through Guajajara, in her interpretation of what the character means, and through indigenous authors, but also non-indigenous accomplices, who will be contributing to the publication.
The android as a typical sci-fi figure blurs the lines between human and nonhuman beings, and therefore also inclusion and exclusion, what is deemed natural and artificial. Engaging in strategies of worldbuilding, YWY, Visions combines sci-fi elements with Amerindian cosmologies to contest a linear claim on the future, offering instead a conflict of many worlds and visions in-between indigenous and White perspectives. In doing so, it explores how works can open imaginaries beyond postcolonial tensions, neoliberal policies and the ecocide we are currently living.
PEDRO NEVES MARQUES
Pedro Neves Marques (they/them) is a visual artist, filmmaker, and writer. They have had solo shows at 1646 (The Hague), Castello di Rivoli (Turin), High Line and e-flux (New York), Gasworks (London), Pérez Art Museum of Miami, and Museu Colecção Berardo (Lisbon), and have shown at Liverpool Biennial, Gwangju Biennial, Guangzhou Image Triennial, Tate Modern Film, Serpentine Cinema, Hamburg Kunstverein, Kadist Foundation, Fondación Botín, SculptureCenter, Matadero, VAC Foundation, Guangdong Times Museum, Yinchuan Biennale, New Museum Triennial, NTU CCA Singapore, and in film festivals like Toronto International Film Festival and the New York Film Festival, among many others.
They have published widely between art, anthropology, and ecology in magazines and publications by MIT Press, Sternberg Press, and Haus der Kulturen der Welt, as well as edited the anthology The Forest and The School (Archive Books, 2015) and guest-edited e-flux journal's special issue Supercommunity for the Venice Biennale (2015), since available by Verso. They are the author of two short story collections, most recently Morrer na América (2017) and a poetry collection, Sex as Care and Other Viral Poems (2020) by their poetry publisher pântano books. They are also co-founders of inhabitants-tv.org, an online channel for experimental reporting. They were awarded the Present Future Art Prize at Artissima in 2018 and have been shortlisted for the Pinchuk Future Generation Art Prize 2021, and their films have been awarded prizes at MixBrasil, Sicilia Queer Film Festival, Short Wave, Go Short, and Moscow International Experimental Film Festival. Born in Lisbon, Portugal, they have lived in London, São Paulo, and New York. For more info: http://pedronevesmarques.com/
ROSA LLEÓ
Rosa Lleó is a curator and writer based in Barcelona. She is founder and director of the small-scale organization The Green Parrot. Since its opening in 2014, it has established itself as a reference space with a collection of exhibitions, publications and activities with local and international artists. The project has also been curator in residency at the Fundació Antoni Tàpies from 2017-2019 producing a series of programmes and events in collaboration with other institutions and the City Council. The Green Parrot's aim is to create a space for dialogue and exhibition in the city of Barcelona working very close to artists and thinkers. It has open a new venue in Spring 2021.  For more information: www.thegreenparrot.org .
Other recent projects of her include An Oasis at Sunset (MAAT, Lisbon) conceived as a major exhibition for the 20th Anniversary of the EDP Prizes and Right Now, a survey of moving image works made in Barcelona (Arts Santa Mònica, Barcelona). She writes occasionally for newspaper supplements and other magazines and she teaches Contemporary Art at the Degree of Communications and Media at the Pompeu Fabra University in Barcelona.
YWY Visions has been produced in collaboration with 1646, La Haya and Fundación Caixa.


Supported by the municipality of The Hague:

Exhibition video from 1646, The Hague.