POP POLITICS: ACTIVISM AT 33 REVOLUTIONS
POP POLITICS: ACTIVISM AT 33 REVOLUTIONS
-

CURATOR IVÁN LÓPEZ MUNUERA
Pop Politics: Activism at 33 Revolutions exhibition raises a claim of specific politics forms produced in Pop music through contemporary art practices. A way of addressing the current cultural production from a specific ideological way through personal empowerment practices, shared spaces, viewer´s emancipated gaze, mass media and an approach and reconnection of diverse information. An exhibition about current art practice on the move.
Over the XX and XXI Centuries, it has taken place a number of events which have had, as gravitational center, the different knowledge produced in Pop music (or urban popular music forms, either rock, punk, post-punk, disco, electro or hip-hop) causing a change in the social and cultural establishment. Actions which are not always present in the used history that, however, have developed a serial of varied genealogies essential for art experience, causing a radical crash in aesthetic, social ties as well as in the interaction with the established order.  A different way of understanding history –or of  building "another" history- which has decisively influenced present, which hardly ever it is approached from a retroactive way, this is to say, as a toolbox to reveal the current implications from many of today´s  aesthetic and art events. Through songs, t-shirts, album covers, clubs, concerts, covers or fanzines, it is exported and dramatized the running power mechanism in daily life, proving that what it is "personal, it is political" and what it is "political, it is personal". In all these elements, consumerism and sexual relations are dissected, how the hegemonic fictions  and common sense notion  over what is natural/normal are built or even the way in which the most spontaneous and intimate life experience are indeed determined beforehand by superior powers. Some conceptions which, as Gang of Four would say 'Natural Is Not In It', can also be diversely challenged.
And, it is that, in the last decades, the different art forms have made used of these techniques and spaces of conflict, whether through a direct, indirect or theoretical use. This exhibition tenders, through the work of over 30 artists and alongside projects, a reading of these vindications through performances, videos, photography, drawings, comics, installations, concerts, paintings, songs, and documentary films, which redefine the diverse social spaces, the daily aesthetic, the viewer´s gaze, the versioning phenomenon and the way of communication in order to reformulate not only the extension of these practices but also the actual understanding of politics from the contemporary art side.
ARTISTS
assume vivid astro focus, Lorea Alfaro, Gabriel Acevedo Velarde, Bozidar Brazda, William Cordova, Red Caballo, June Crespo, Robert Crumb, Discoteca Flaming Star, Jeremy Deller & Nick Abrahams, Juan Pablo Echeverri, Ruth Ewan, Luke Fowler, Till Gerhard, Luis Jacob, Jeleton, Daniel Jacoby, Daniel Johnston, Daniel Llaría, Kalup Linzy, Jennie Livingston, Christian Marclay, Ryan McGinley, Momu & No Es, Dave Muller, Raymond Pettibon, Francesc Ruiz, Mickalene Thomas, Pepo Salazar, Aitor Saraiba, Azucena Vieites, Lyota Yagi, Zira02 e Icaro Zorbar.
PUBLICATIONS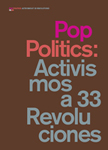 PARARELL ACTIVITIES
CA2M Tour
Workshop- Secondary education students exhibition tour
EXHIBIT INFORMATION SHEET (download)

 info PRESS



Information
Inauguration
29 November 2012 20:00