PORTRAIT OF A MOVEMENT. RENATE LORENZ & PAULINE BOUDRY
PORTRAIT OF A MOVEMENT. RENATE LORENZ & PAULINE BOUDRY
-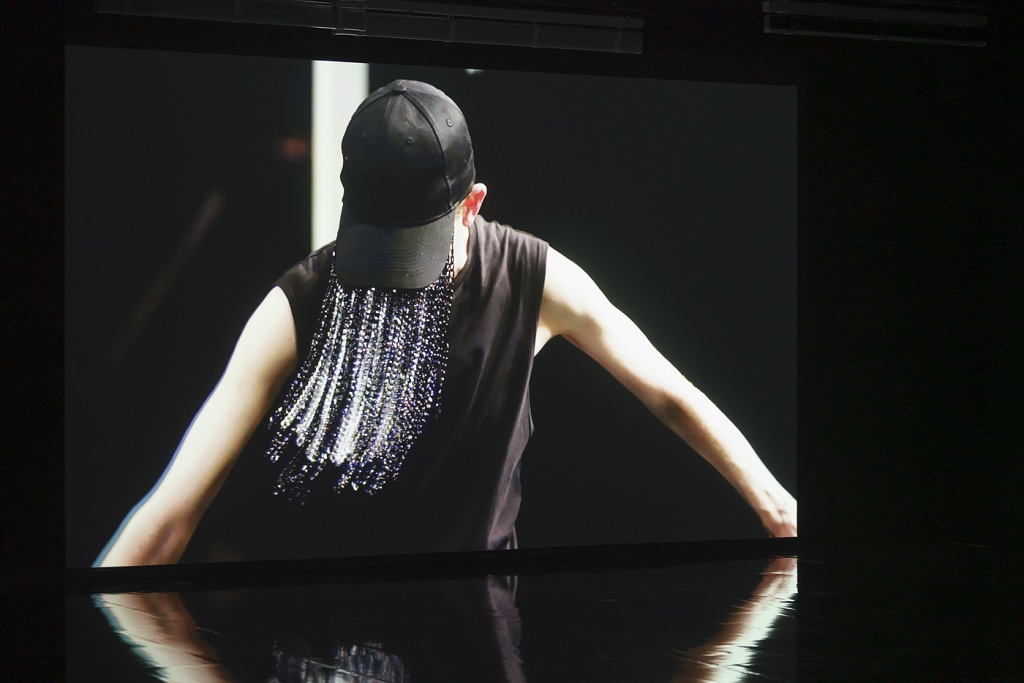 (No) Time, Pauline Boudry / Renate Lorenz, still. Installation with HD and 3 blinds, 2020.
Can moving arms, legs, hair be inspiring for a movement, a coming uprising for more joyful and equal ways of living together? Engaged with the precarious moment of taking the stage—a moment which allows for one's visibility while at the same time disclosing one's fragility—Portrait of a Movement addresses questions of pleasure, power, and radical difference. Two large film installations form the core of the exhibition: while engaging with dance movements and artistic collaborations, they explore abstraction's potential for resistance in the face of reactionary politics.
Portrait of a Movement involves the film installation (No) Time (2020) alongside Moving Backwards (2019), showing them in dialog with sculptures and drawings. The exhibition's flooring is designed to trace its audience's movements—as scratches—and memorize them for future appearances. In the "abstract bar" section of the space—a place to spend time with friends—artists Francis Baudevin, Werner Hirsch, Rindon Johnson, Naomi Rincón-Gallardo, Natascha Sadr Haghighian, Jimmy Robert, and Eran Schaerf contribute further drawings and photographs.
In the commissioned installation (No) Time, four performers seem to be rehearsing for a queer time, employing strate¬gies such as extreme slowness, being out of synch, changes of rhythm, stillness, and breaks as they work on escape routes, refusing the deadening beats of labor and the state-sponsored hopeless tacts of being. Both the film set and the installation employ automated elements—a sliding door and a set of blinds mimic the camera's shutter while offering some refuge in face of the camera's gaze.
Also activated by the feeling of being pushed backwards by recent backlashes, the second large installation, Moving Backwards, explores resistance practices, combining post-modern choreography and urban dance with guerrilla tactics and elements of queer underground culture. Captured by a relentlessly-moving camera, parts of the walks, solos, and group dances are carried out backwards, while others are digitally reversed, giving way to doubt and ambiguity in the installation as a whole. As you follow the performers' move¬ments, you might no longer understand if they are walking forwards or backwards, if they are moving towards their future or their past.
Can we portray movements towards a different way of togetherness that are capable of both, connecting to polit¬ical despair and an unabashed desire for something else?
RENATE LORENZ & PAULINE BOUDRY
Portrait of a Movement is the first solo exhibition in Spain of the internationally-renowned artist duo Pauline Boudry / Renate Lorenz, who have been working together in Berlin since 2007, focusing on queer paradigms of aesthetics, history, culture, community, resistance, and kinship.
Their most recent exhibitions include (No) Time, Frac Bretagne, Rennes, and Mediacity Biennale, Seoul Museum of Art (2021); Moving Backwards, Swiss Pavilion at the 58th Venice Biennale (2019); and Ongoing Experiments with Strangeness, Julia Stoschek Collection, Berlin (2019).
ÖVÜL Ö. DURMUSOGLU
Övül Ö. is an independent curator, writer, and educator. She currently lives in Berlin and is guest professor and program co-leader at the UdK Berlin postgraduate school. In her curatorial work, Övül focuses on the inter¬sectional narratives around contemporary political subjec¬tivities; she acts between singular languages and collective energies, worldly immersions and historical cosmologies, from a queer feminist perspective. While continuing her co-curatorship for the 2023 Autostrada Biennale in Kosovo with Joanna Warsza, she is engaged with Kunsthalle Wien and Martin Gropius Bau for her future projects.
In October 2022 they will show a new site-specific installation at the Palacio de Cristal (Museo Nacional Centro de Arte Reina Sofia).
Co-produce

La obra No (Time) es una coproducción con el FRAC Brétagne (Francia).
With the support of