SYNTACTIC TACTIC. DIEGO BIANCHI
SYNTACTIC TACTIC. DIEGO BIANCHI
-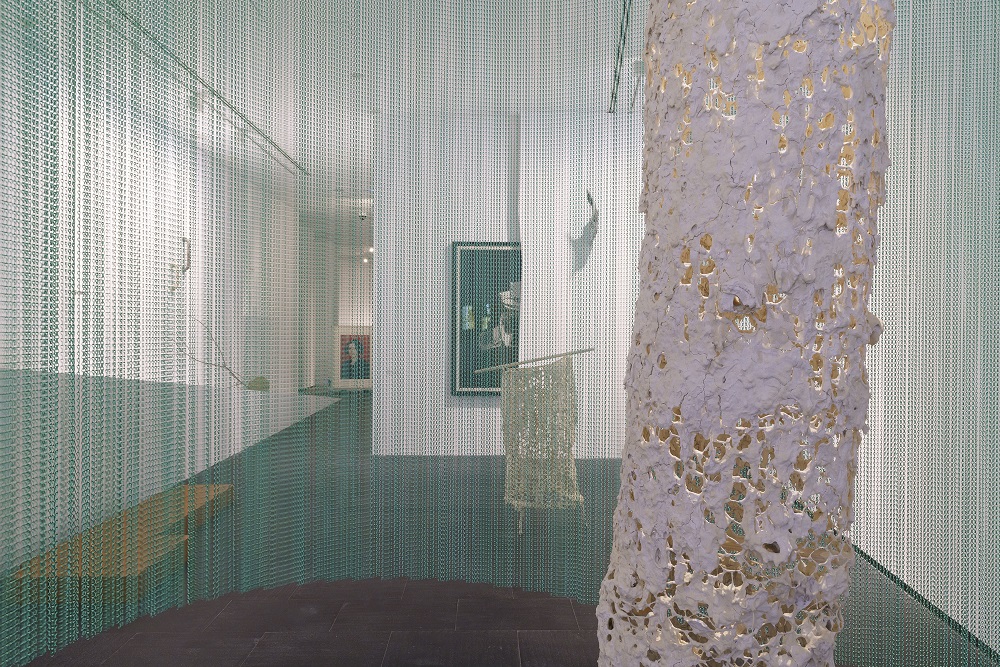 "Tactic Syntactic. Diego Bianchi". Photograph: Daniel Riera.
Y.A.: Do you have anything to add? 
M.D.: I don't know how to add. All I know how to do is create. Only that.
Marguerite Duras, No More (1995)
Curated by Mariano Mayer.
By supposing that logic makes chaos natural and order artificial, we are positing a physical and conceptual experiment of what an exhibition space is. Syntactic Tactic. Diego Bianchi is an exercise in disassembling. A white cube, a neutral space, windowless, consisting of white walls and a source of light shining from top to bottom, becomes the raw material for a plausible disassembling. Based on an absence of pre-defined moulds and behavioural guidelines, this project highlights a number of exhibition practices.
To do this, we suggest alternative ways of organising – the display, which is seen as a hybrid framework, is both an architectural-sculptural support as well as a work of art. A projected exhibition environment, which is not revisionist or retrospective, where prints, collages, objects, sculptures, paintings and photographs are not observed solely by being viewed. The framework of the project – whose content is simply a series of artworks – functions as a language of gestures from which Diego Bianchi has created a series of pieces. In some cases, these house works from the Collection. It is a loop of uses and shapes, whose only goal is to make the oneness between proper names and the symbiosis between artworks the structural core of Syntactic Tactic. Diego Bianchi.
This exhibition is part of the cycle: Dubbing the Voice. Artist readings of CA2M's holdings
Centro de Arte Dos de Mayo regularly invites artists to give their own personal readings of its collections in exhibitions that are both a sample of its holdings as well as an undercover solo show of their own work. Seen from the optic of an individual art practice, a collection is removed from academic narratives and exhibition conventions and creates disruptions, unforeseen interpretations and new ways of speaking that add to the work of radical imagination which is what characterizes any contemporary art institution. In this way, the museum's holdings are not viewed as an end in themselves but from the potential they afford for production. Each exhibition will be built from the same collections, intuiting narratives of future forms of collecting through their differences and resonances. As exercises in ventriloquism over the museum in which the speech act belongs to the artists that are its very raison d'être.
DIEGO BIANCHI
Diego Bianchi was born in 1969 in Buenos Aires, where he lives and works. Among his most noteworthy exhibitions are INFLATION, Liverpool Biennial (2021); Sauvetage Sauvage and Softrealism, Galerie Jocelyn Wolff (Paris, 2020 & 2019); Museo Abandonado: Barrio Kronfus, Bienal Sur 2019 (Argentina); Meritocrazy, Pasto (Buenos Aires, 2019); El presente está encantador, Museo de Arte Moderno de Buenos Aires (2017); WasteAfterWaste, Perez Art Museum (Miami, 2015); Suspensión de la incredulidad: Experiencia infinita, Museo de Arte Latinoamericano de Buenos Aires (2015); Under de Si, in collaboration with Luis Garay (Matadero, Madrid, 2018, Wienner Festwochen, Austria and Bienal de Performance, Buenos Aires, 2015); El trabajo en Exhibición, Galerie Jocelyn Wolff (Paris, 2015); ON ON ON Indetermination, ABC Art Berlin Contemporary (2014); Into the wild meaning, Visual Arts Center (Texas, 2013). His work has also been seen at the 13th Istanbul Biennial (2013); 11th Lyon Biennial (2011) and the 10th Havana Biennial (2009).
Bianchi studied graphic design at the University of Buenos Aires and became actively involved in art practice in 2002. He took part in Pablo Siquier's workshop within the programme of visual arts workshop C. C. Rojas-UBA-Kuitca 2003-2005 (Buenos Aires); and The Skowhegan School of Painting and Sculpture (Maine, 2006) and also in the Locust Project (Miami, 2008).
Since 2009 he has taught in the Artists Programme at Universidad Torcuato Di Tella giving workshops and annual symposiums. He has been an invited guest teacher at SESC São Paulo, Brazil and at HFBK in Dresden, Germany.
He has also published books, including Enlarge. Diego Bianchi Works 2003 -2010 (KBB, 2011); RUB. Perspectivas sobre la obra de Diego Bianchi, edited by Inés Katzenstein (Motto, 2018) and Diego Bianchi, El presente está encantador (Museo de Arte Moderno de Buenos Aires, 2019).
MARIANO MAYER
Mariano Mayer (Buenos Aires, Argentina, 1971) is a poet and freelance curator. Among his latest projects are NUNCA LO MISMO, jointly with Manuela Moscoso (ARCOmadrid 2021); REMITENTE (ARCOmadrid 2021); PRELIBROS (ARCOmadrid – Casa de América, Madrid, 2021); Jesús Hernández Verano. Treno (CIC El Almacén, Lanzarote, 2021); Azucena Vieites. Playing Across Papers (Sala Alcalá 31, Madrid, 2020); Distancias elásticas. Antonio Menchen y Cecilia Szalkowicz (Centro Párraga, Murcia, 2019); La música es mi casa. Gastón Pérsico (MALBA, Buenos Aires, 2017); En el ejercicio de las cosas, jointly with Sonia Becce (Plataforma Argentina–ARCOmadrid 2017); Isla de Ediciones, jointly with Cecilia Szalkowicz and Gastón Pérsico (arteBA, Buenos Aires, 2017/2016); Causal: Ignacio Fanti (The White Lodge, Córdoba, 2016); Valeria Maggi; (HACHE, Buenos Aires, 2016); Soy un libro que no he escrito ni he leído Capítulo I y II (Mite, Buenos Aires, 2014 and The Goma, Madrid, 2015); Fisicismos, jointly with Manuela Moscoso (Universidad Torcuato Di Tella, Buenos Aires, 2013); June Crespo: Reverso (Have a Window, Torino, 2013);Visible, Móvil, Vidente (Centro Párraga, Murcia, 2012–2013); XXIII Circuitos de Artes Plásticas (Sala de Arte Joven Comunidad de Madrid, 2012) and Plano, peso, punto y medida (Universidad Torcuato Di Tella, Buenos Aires, 2011).
His books include Fluxus Escrito (Caja Negra, Buenos Aires, 2019); Justus (Ayuntamiento de Léon, 2007) and Fanta (Corregidor, Buenos Aires, 2002). He has taken an active part in critical seminars: Paperetik hitzera, (Artium, Vitoria–Gasteiz, 2021); Sobre Fluxus Escrito (Bulegoa, Bilbao, 2020); Iconoclasia Fluxus (CAAM, Las Palmas de Gran Canaria, 2019); Fluxus Escrito (Bibli – El Ateneo de La Laguna, Tenerife, 2019); Pero… ¿Esto es arte? (CA2M, Móstoles, 2015); Comisariando el presente (La Casa Encendida, Madrid, 2015/2017) and Sexy Books for All Ages (Matadero Madrid, 2012). In 2016 he was Curator-Professor in the Artists Programme at Universidad Torcuato Di Tella, Buenos Aires and directed the programme on Argentinian art: "Una novela que comienza" (CA2M, Móstoles, 2017).
With the support of