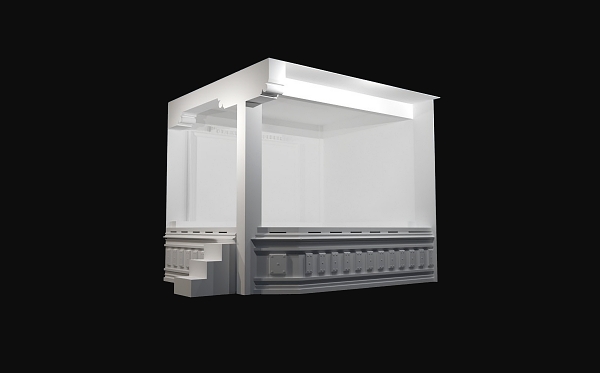 Tablao, the Spanish word for a venue where flamenco is performed, is an installation by Ernesto Artillo that links two apparently opposing spaces: the Corral de la Morería and the CA2M Museum. With a live performance by the flamenco troupe comprising Yerai Cortés, Niño de Elche, Andrés Marín and Rocío Molina. Tablao moves between time periods and explores the life experiences of current and past flamenco artists, as well as those of their audiences and fans. Experimenting with the ornamental and the everyday aspects shared by both a museum and a tablao was inconceivable until recently, and it was even more so to suggest their interdependence in order to provoke bewilderment.
Tablao keeps everybody in a state of continuous confusion. Through the hyper-realistic reproduction of the Corral de la Morería tablao in the museum, the aim is to blur the boundaries between both media conceived for the artistic experience and to nourish their future creative potential. Here, the tablao is understood for what it is: a traditional space for flamenco performances created in the 1950s under the auspices of Spain's Ministry of Information and Tourism.
It is both a stage and urban architecture, a place for celebration and productive work. For flamenco artists, it is a place in both the material and mythological sense that gives life to their career and takes them in when it is over. But what makes a tablao what it is? This artificial or cloned space is both an anachronism and an experiment, a cyclical place where futures are built or to gather together again.
A TABLAO IN THE CA2M MUSEUM
For the first time since it opened in 1956, the stage of the famous Madrid tablao has been reproduced hyper-realistically and to its exact dimensions. Coinciding with the anniversary of the CA2M Museum, this unusual tablao proposes to recreate in the museum a traditional tablao show (performances by the troupe as well as impromtu performances). As Paco Sevilla said in The Spanish Tablao "most of the fun is not knowing who or what is going to appear".
The outline of the main space at the Corral de la Morería is taped out onto the floor of the museum for the purpose of creating havoc with both the architecture and its spaces. The cloned tablao is laid out inside the taped perimeter with an arrangement of black chairs and tables to induce the proper experience. To question as such the notion of the black box and the white cube from the perspective of flamenco. The experience begins when the performances start and the audience (visitors, tourists, aspiring flamenco artists or flamenco enthusiasts) experientially inhabits the installation, while the interiors of both tablaos (the real one in Calle Morería and the cloned one inside the CA2M) are simultaneously recorded. The sound space, dance space and experimental space are brought together at the same time.
Created by Ernesto Artillo. Commissioned by the CA2M Museum. Project architect: Pablo Chaves. Scientific consultant: Alicia Navarro. With Yerai Cortés, guitarist. Niño de Elche, vocalist. Andrés Marín, dancer. Rocío Molina, dancer. With the invaluable collaboration of the Corral de la Morería.
 
THE INSTALLATION
ERNESTO ARTILLO / ARTIST
Ernesto Artillo is an indisciplinary artist who deconstructs identity by intervening in different artistic genres with essays on religion, activism, social networks, flamenco and traditions. Writing, performance art, costumes, new audiovisual formats... are some of the disciplines that he subverts through his creations, making undefined his most recognisable trait.
He has collaborated with artists such as Niño de Elche, Rocío Molina, Luz Arcas, Javier Ballesteros, Boye and Fergie, among others; with companies such as Kor'sia and Mujer en Obras, and with the Royal Theatre of La Monnaie/De Munt, Brussels.
His individual projects include Gala Literal presented at the Soho Theatre in Malaga, Corpus at the CA2M Museum, Se hizo carne at the Carmen Thyssen Museum, Lo incondicional at Teatros del Canal, Peregrinación sexual at Pornhub.com, La condición humana at the CCC La térmica, Acto de Penitencia at the CAC Malaga, Ensayo de Fe at the Zapadores Art Centre, Camino de Perfección at the B1N0M10 Festival and Los Mártires at the Wecollect gallery.
His creative gatherings in Cabo de Gata blur the boundaries between performance and everyday life: Lo íntimo y lo público (Private and Public), Más allá (Beyond), Nadie (Nobody), La carne (The Flesh), Trans, Altares (Altar) and Vigor are some of the titles given to the sixteen he has held so far. Since 2015 he has been giving talks and workshops at Spanish universities, art schools and institutions, such as Caixa Forum, IEDE, IADE, IE, the Complutense University of Madrid, UMA, Condé Nast College and ESNE, among others.
PABLO CHAVES / PROJECT ARCHITECT
After studying architecture at ETSA, in Seville, and specialising in production design at La Sapienza, in Rome, Pablo Chaves moved to Madrid to do a degree in textual interpretation at the Royal College of Dramatic Arts. He spent 6 years working as an architect for a firm in Madrid until he made a permanent move into professional production design. His latest projects include the set and costume design for the play Cucaracha con paisaje de fondo for the Mujer en Obras company, for which he was nominated for a Max Award for Performing Arts in the category of stage design. He worked on the production design and technical and artistic coordination for projects such as Safo by María Folguera, which premiered in Mérida and played at Teatre Romea and Teatros del Canal; Othello by Voadora, which premiered at the Abadía; and Hoax Hamlet, at Ciudad de la Cultura. He has worked on a number of stage designs for Marta Pazos, and has also worked for other production designers, such as Max Glaenzel, José Novoa and Blanca Agnon. He is a collaborator with Radio Nacional España on the programme La sala, presented by Daniel Galindo, in which he hosts a section on different Spanish avant-garde production designers. He currently combines a career as an actor with that of production designer.
ALICIA NAVARRO / SCIENTIFIC CONSULTANT
Alicia Navarro is an independent curator and researcher. She holds master's degrees in Contemporary Art History and Visual Culture (UAM-UCM-MNCARS), Contemporary Thought, Narrative, and the Arts (ECH-Madrid). She works as a researcher on R&D projects undertaken by the Spanish National Research Council (CSIC). Her work takes her to dance studies, live performances and artists' studios, allowing her to create off-centred and expanded narratives focusing on the problems faced by minorities and the factors that lead to differentiation that are imposed by the hegemonic world. Her projects on gender studies and decolonial flows applied to flamenco and the history of dance, including Negritud: las memorias fronterizas del flamenco for the Malaga Flamenco Art Biennial (Museo Picasso Málaga and Museo Carmen Thyssen, 2023) and Danzar en el museo, ¿es eso lo que queréis? (Centre Pompidou Málaga, 2022). Her published works include La mujer jonda: danza y abstracción (UGR, 2023), Truco, Cosmos y Fenomenología (MNCARS, 2022) and Cuerpo feministas, cuerpos fragmentados y cuerpos adheridos en la estética flamenca (MACBA, 2012).
THE TROUPE
YERAI CORTÉS / GUITARIST
Yerai Cortés, born in May 1995 in Alicante, is a flamenco guitarist. His passion for flamenco comes from listening to his father, Miguel Cortés, playing the guitar since he was a child and experiencing home-grown, Gitano-style flamenco. Worthy of note among his many collaborations with artists are his collaborations in recent years with such outstanding figures as Farruquito, Rocio Molina, Alejandro Sanz and C.tangana. He is currently working on his first album and is embarking on a career as a solo artist.
NIÑO DE ELCHE / VOCALIST
Niño de Elche is an indisciplinary artist and former flamenco singer who has managed to combine into different art forms such music genres as flamenco, free improvisation, krautrock, electronic, electro-acoustic and contemporary, together with poetry, performance art, dance and theatre.
In addition to his 13 recorded albums, he has published four books. He has also collaborated with prestigious artists such as Angélica Liddell, Rosalía, Ernesto Artillo, María Muñoz, Rocío Molina, Raül Refree and C. Tangana, among others. He was one of the Spanish artists invited to Documenta 14 with the installation and performance La farsa monea in conjunction with the artists Pedro G. Romero and Israel Galván. He featured in the film When You Listen (original Spanish title Niños somos todos), directed by Sergi Cameron, and the film-making duo of Marc Sempere and Leire Apellániz made a film based on his life and work, Cosmic Chant (original Spanish title Canto cósmico). For the Reina Sofía Museum collection, he created the sound installation Auto Sacramental Invisible, una representación sonora a partir de Val del Omar.
ANDRÉS MARÍN / DANCER
Andrés Marín is one of the major artists in the current flamenco scene. His performance features a very personal style and a totally contemporary aesthetic. His style of dance is considered to be one of the most innovative in the world of flamenco. Andrés Marín was born in Seville in 1969 to artist parents, and he taught himself to dance when he was just a child. Not belonging to any particular school he has allowed his artistic personality to develop great originality.
In the belief that flamenco can dialogue with other arts and on the same level, in addition to his activity at the head of his own company, Andrés Marín collaborates with internationally renowned artists and choreographers, for example, in 2013 with Bartabas, director of the Théâtre Equestre Zingaro, in Paris, for the show Golgota; and in 2014 with hip-hop dancer and director of the Centre Chorégraphique National de La Rochelle (CCN), Kader Attou, to present the duo Andrés Marín+Kader Attou, together with the duo Eva Yerbabuena+Carolyn Carlson, performing at the Théâtre National de Chaillot for the Paris Flamenco Art Biennial.
In October 2022, Andrés Marín was awarded the Spanish National Dance Award in the creative category for "moving between tradition and avant-garde".
ROCÍO MOLINA / DANCER
Choreographer and iconoclastic bailaora, Rocío Molina has created her own language based on the reinvented tradition of a flamenco that respects its essence and embraces the avant-garde. Radically free, her performances combine technical skill with contemporary research and conceptual risk. Unafraid to forge alliances with other disciplines and artists, her choreographies are unique performative events that draw on ideas and cultural expressions ranging from film to literature, by way of philosophy and painting. Her artistic quest has been acknowledged by such awards as the 2022 Gold Medal of Merit in the Fine Arts, bestowed by the Spanish Ministry of Culture; the prestigious Silver Lion at the Venice Biennale for dance, as well as the Positano Premia la Danza Award, both in 2022; the 2010 Spanish National Dance Award; the UK National Dance Award, in both 2016 and 2019; as many as four Max Awards for Performing Arts; and the recent 2023 Talía Award as best performer for Vuelta a Uno. She is one of Spain's most internationally renowned artists, and she has performed on the world's most important stages, from the Barbican Centre, London; the New York City Center; the Avignon Festival; the Esplanade, Singapore; the Tanz Im August Festival, Berlin; the SPAF Festival, Seoul; the Stanislavsky Theatre, Moscow; the National Theatre of Taiwan; the Dansens Hus, Oslo and Stockholm; the Théâtre National de la Danse Chaillot, Paris; and the Bunkamura, Tokyo.