POSITIONAL VISITS 2023
TOURS OF THE EXHIBITIONS GUIDED BY A CREATIVE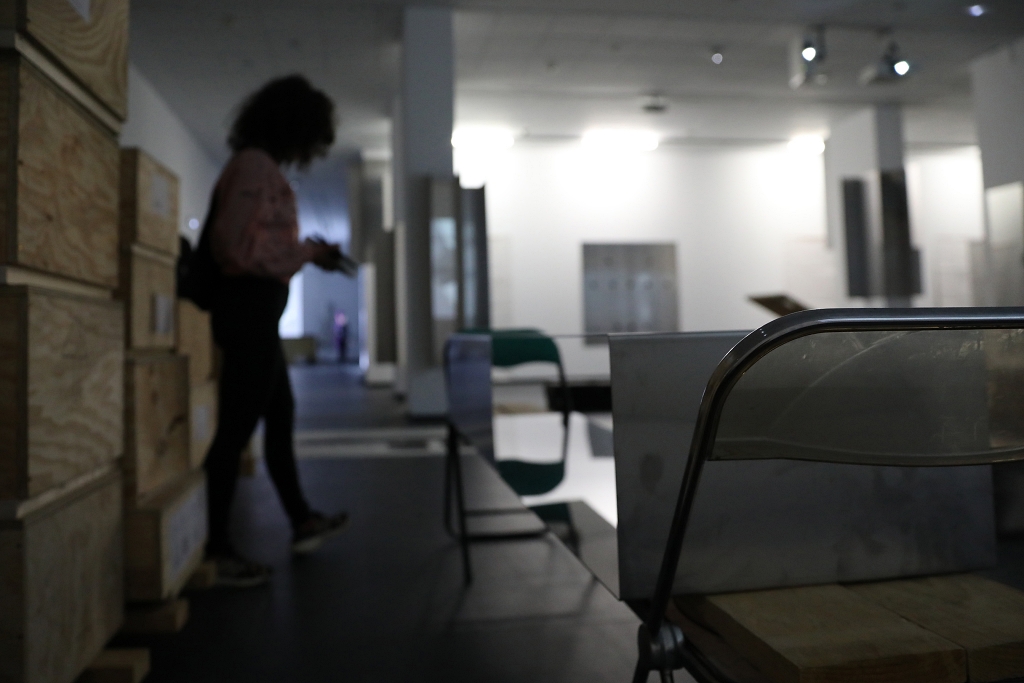 Welcome to Una Vibración Casi Imperceptible ('An Almost Imperceptible Vibration'), a positional, performed visit that uses the audio guide as a tool to explore the exhibition put together by the artist Jon Mikel Euba, Animals That Bear the Weight of Mysterious Loads in Settings Created by Opposing Forces.
We invite you to enter a choreographed landscape that comes into existence as we walk through it and asks: where does your body end and this landscape begin? An experience to relive the past, time to hear, see and perceive what is vibrating and not visible to the naked eye, to stop before a reflection or an impulse, to ask ourselves: what is this landscape doing to us?
The body has no eyelids; it is a porous membrane that absorbs sensory stimuli and turns them into experience and knowledge. Shall we go for a walk? Bring your headphones.
Activating impulses, working from the experiential, promoting critical attitudes through action, involving the body in the learning processes and questioning social institutions. The CA2M Museum's Department of Education and Public Activities is developing a line of work aimed at putting together themed visits in which artists and creatives are invited to bring the exhibitions closer to the visitors through their own artistic practices. This allows us to eschew the presumption of objectivity in the narratives put forward by the exhibitions by offering a break with hegemonic discourses. A space for research in which to encourage one's own readings of the image and story, resulting in the creation of new archetypes.
Paulina Chamorro. I am a researcher, creative, performer and cultural manager. I work in the field of the performing arts in Latin America and Spain. I continuously collaborate with artists, collectives and institutions on projects that promote research and the creation of transdisciplinary dramatic languages engaged with contemporary issues.
REGISTRATION: By telephone on 91 276 02 21, by e-mail at ca2m@madrid.org or in person at the museum reception.
More information and contact