Directed by: Marta van Tartwijk and Javier Pérez Iglesias
We thought we could start in the following way: referencing a lecture that, in turn, referenced Georg Simmel. The person who referenced him said something about how we get to know ourselves by seeing how others look at us and that, without others, it is impossible to have a subjective experience. We were, however, unable to attend this lecture; we watched it at home on YouTube, sometime after the event. Despite not having shared that physical time and space, we also felt, as we watched, equally observed by Simmel's eyes, present within the eyes of the lecturer. This made us wonder which eyes we have within our own eyes, and if, perhaps, looking at ourselves is in fact like two mirrors facing each other.
Looking is a way of making things present. We believe that this is the strange place that can be unlocked by archives and libraries. A temporary confusion that is manifested in the grasping, reviving, appropriating, incorporating, combining, sectioning, swallowing, reworking processes. We want to see, but we also want to find that which observes us and invites us in.
Via this programme, we want to explore the power of texts or some methods of creating them: bibliographies, footnotes, quotes, comments, margin notes… A common text is created through them, an entity that transcends time in search of bodies to give it meaning and make it grow. This way of writing, featuring quotes and comments, makes us read as though we were writing, as if we were playing at cutting and pasting once again.
Dates
Miércoles del 27 de octubre al 15 de diciembre
Entradilla
CA2M develops an important line of training activities in contemporary art and thought framed within the tradition of popular universities, especially aimed at young and adult audiences.
In these courses, some of the fundamental approaches to understanding and interpreting contemporary art will be addressed clearly and directly.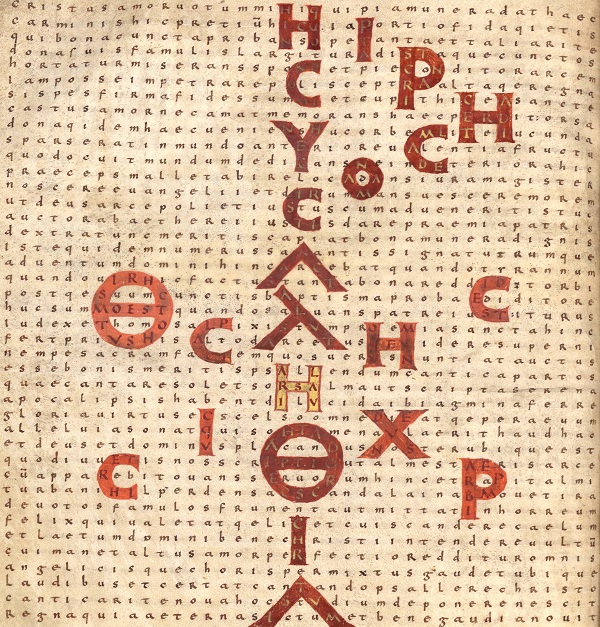 Crear como quien hace bibliotecas
Pie media
De laudibus Crucis. Beato Rabano Mauro Beato (siglo IX). Universidad Complutense de Madrid
¿Es un ciclo?
Desactivado